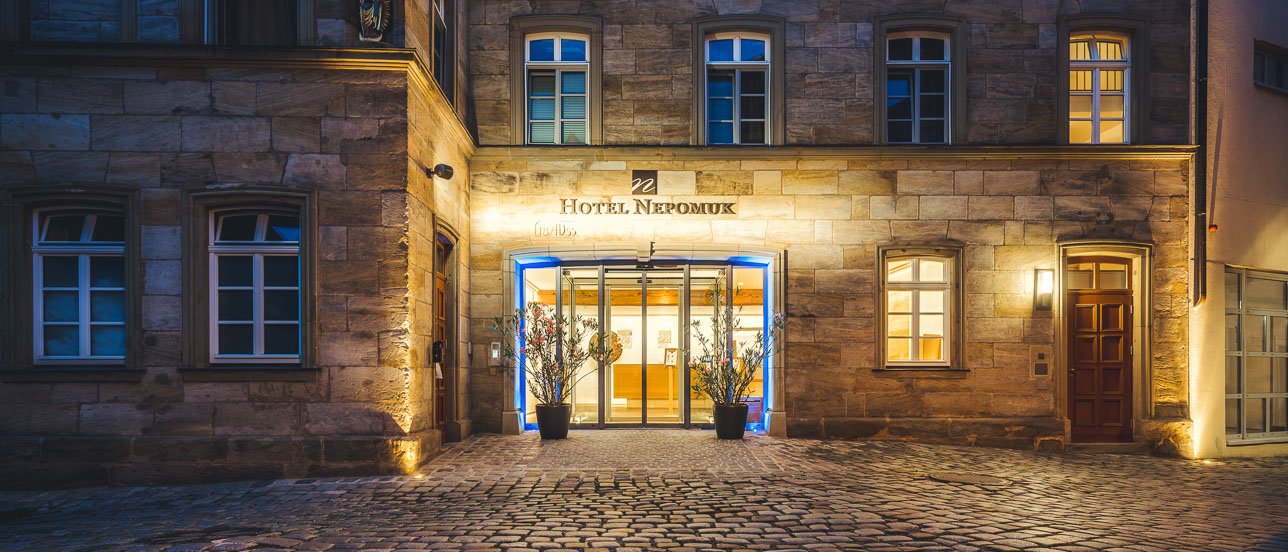 FAQ Hotel Nepomuk
Answers to frequently asked questions about your visit to Hotel Nepomuk
Accessibility
You can reach our hotel reception barrier-free through the step-free entrance. All rooms in the house, with the exception of the suite, are easily accessible via elevator.
One of our rooms in the Economy category is largely barrier-free: you will find a walk-in shower and grab rails on the toilet and there is enough space in the room to get to the bed in a wheelchair.
The ECKERTS Wirtshaus also has a ground-level entrance and is therefore easily accessible without barriers. In the bar area by the fireplace, all tables are barrier-free. A barrier-free toilet is available. Please ask our service staff.
Air conditioning – natural climate for your well-being
The Hotel NEPOMUK is located in the middle of the river and is therefore surrounded by natural air conditioning. The Regnitz, which flows past, provides pleasant coolness in summer and the air does not heat up as much as in an asphalted environment.
Because of this and also due to building regulations, we do not use air conditioning units in the Hotel Nepomuk. You get the best climate in summer by letting the pleasant night air in through the windows.
Bicycles and eBikes
Cyclists are welcome at Hotel NEPOMUK! Lockable parking spaces are available for your bike.
Would you like to rent a bike or eBike in Bamberg? Then please contact one of the following addresses:
rent a bike
Elisabethenstrasse 4, 96049 Bamberg
Telephone: 0171 4808406
www.rent-a-bike-bamberg.eu
Bamberg & Rad
Telephone: 0176 96322882
www.bambergundrad.de
Booking, rebooking and cancellation
Booking
The best way to book a room is to use the booking function on our website. Of course you can also make a booking by telephone. You can also send us an inquiry by email.
Rebooking and cancellation
Individual bookings can be rebooked or canceled free of charge up to 2 p.m. on the day before arrival. Separate, agreed cancellation deadlines apply to group reservations
Breakfast
Daily, from 7 a.m. and for as long as you like, we offer you breakfast at Eckerts à la carte - from simple & tasty to colorful & lavish. We are also happy to bring your breakfast to your room. Simply place your breakfast order with reception.
You can find our Breakfast Menu here.
Check In / Check Out
You can arrive and check in from 2:00 p.m. to 9:00 p.m.
Check-out is possible from 8:00 a.m. We kindly ask you to vacate your room by 11:00 a.m. at the latest on the day of departure.
If you arrive later or depart earlier, or if you would like to take advantage of an Express or Online Check-Out, please contact us during your stay.
Contactless check-in
Of course, your check-in at Hotel Nepomuk can be completely contactless. After your booking you will receive detailed information and the opportunity to prepare the contactless check-in at Hotel Nepomuk.
Dogs welcome
We are happy if you want to experience Bamberg with your four legged friend. We charge a €15 cleaning fee per night and dog.
You can comfortably take your dog for walk from the hotel. The gorgeous Hain Park is only a few steps away. Simply walk across the Obere Mühlbrücke, past the Eckerts and go along the river upstream.
Families & children
For families with children, our suite is the best choice, with a total of four beds and plenty of space.
In addition, baby cribs are available to you free of charge and can be used in any room category. Please contact our reception desk.
Internet access via WIFI
Use the internet free of charge in broadband quality − quick and easy to set up!
1. Select the WLAN network "germanhotspot" on your smartphone or tablet.
2. You are automatically connected to the germanhotspot server.
3. Accept the terms of use and privacy policy.
Done!
Kettle for coffee or tea preparation
If you need a kettle for preparing baby food, tea or coffee, please inform the reception. We have the appropriate equipment ready for our guests.
Luggage
If you would like to spend the day of your departure in Bamberg, you are welcome to keep your luggage in our luggage space for as long as you like.
Minibar
For reasons of sustainability and also because of the noise emission, there is no minibar in the rooms.
Upon request, you can deposit goods that need to be refrigerated at the reception.
Would you like to have food or beverages delivered to your room? Simply call the reception desk. We offer room service for meals daily between 7:00 a.m. and 09:30 p.m. Our beverage service is at your disposal daily from 07:00 a.m. to 11:00 p.m.
Parking in Bamberg
Welcome to the historical alleyways of the World Heritage City of Bamberg! Wonderful for pedestrians, but a challenge for travelling by car.
There are no parking spaces at the hotel, but in the public parking garages or parking lots nearby. The nearest multi-storey car park is the Geyerswörth underground car park:
City-Altstadt Tiefgarage Geyerswörth (Google Maps)
Geyerswörthstraße 5A • 96047 Bamberg
3 Minutes walk away
Additional parking options
Parkplatz Schillerplatz, Schillerplatz 15 (Google Maps)
Parkhaus Schützenstraße, Schützenstraße 2 (Google Maps)
Payment
Please settle your bill in cash, by EC, VISA, MASTER or AMEX card, or with a "GenussGutschein" (voucher).
Reservations for breakfast and dinner
ECKERTS Restaurant is also popular with the locals for breakfast, especially on weekends and public holidays. We therefore recommend that you reserve a table well in advance, also for lunch or dinner.
You can easily reserve online using the user-friendly reservation system of ECKERTS Restaurant, naturally taking your privacy into account:
If you have problems with the online reservation or would like to inform us of special requirements regarding larger groups, allergies or accessibility, you can also reach us by telephone:
Smoking
Hotel NEPOMUK is a non-smoking hotel. Smoking is therefore not permitted in the rooms or in the public areas of the hotel.
Smoking is also not permitted in ECKERTS Restaurant. Smoking is permitted on the terraces and in the outdoor areas. We ask you to be considerate of other guests. Thank you.