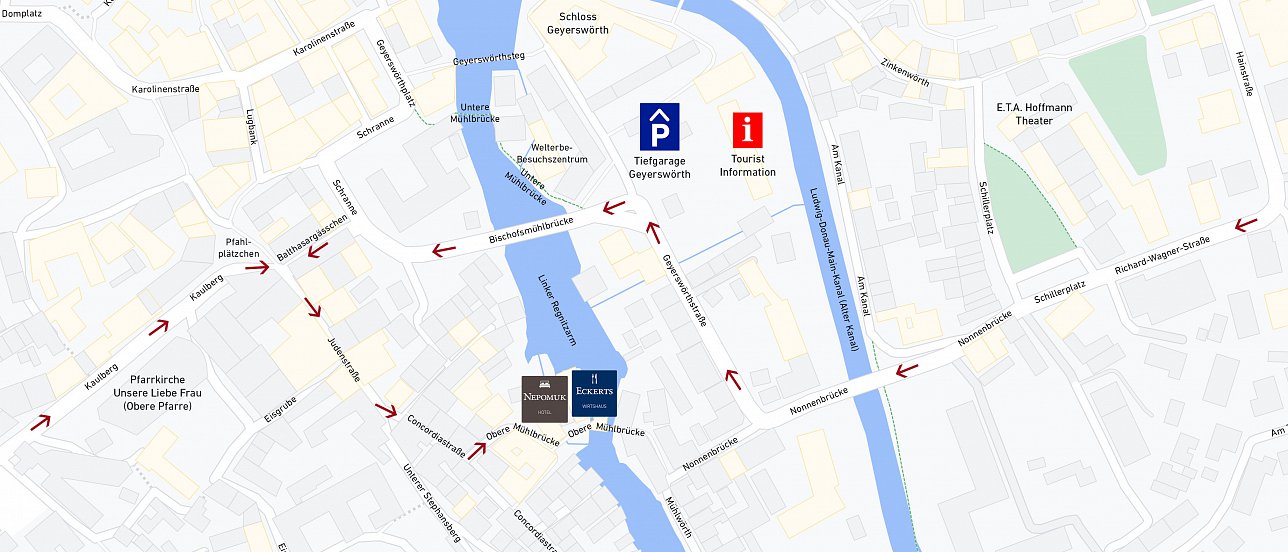 Contact and directions to Hotel Nepomuk
Hotel Nepomuk
Obere Mühlbrücke 9
96049 Bamberg
Germany
E-Mail: reservierung@hotel-nepomuk.de
You can reach us by phone:
+49-951-9842-0
The front desk is available from 8:00 a.m. to 9 p.m.
DIRECTIONS AND CONTACT
By train (ICE Bamberg stop), by plane (Nuremberg airport with fast S-Bahn connection in the Nuremberg transport association) or by car (federal motorways A70 and A73), Bamberg is very well located in Germany. The Hotel Nepomuk is located in the historic Mühlen district, opposite the Old Bridge Town Hall, in the middle of the river.
IMPORTANT ADVICE FOR YOUR NAVIGATION
Indicate "Concordia Straße 4, 96049 Bamberg" as your destination - you will then be almost directly in front of our hotel reception, while "Obere Mühlbrücke 9" leads to the wrong side of the river for some navigation systems.
PARKING FACILITIES
Multi-storey car park Geyerswörth
Parking Schützenstraße
DO YOU HAVE ANY FURTHER QUESTIONS?
Please do not hesitate to contact us, we will be happy to help you.